De Chinese Wouden, maandag 13 maart: winnaar Chinese presidentsverkiezingen bekend
Goedemorgen.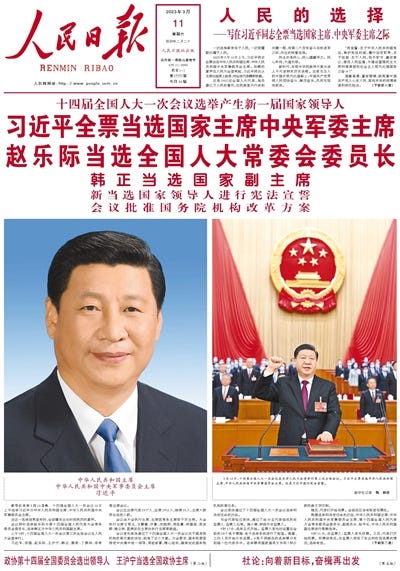 De winnaar van de presidentsverkiezingen in China kreeg niet alleen aandacht op de voorpagina van het Volksdagblad. De kop is in koninklijk rood i.p.v. het gebruikelijke zwart. De verkiezing van Zhao Leji tot parlementsvoorzitter – technisch is het Nationaal Volkscongres het hoogste orgaan van de staat – is met net zulke grote letters vermeld, maar komt wel pas na Xi. De foto's maken ook duidelijk om wie het echt gaat. 万岁,万岁,万万岁!
Na zijn nieuwswaardige benoeming voor een derde termijn als algemeen secretaris van het Centraal Comité van de Chinese Communistische Partij op het Nationale Partijcongres afgelopen oktober 2022, krijgt Xi nu ook de bijbehorende derde termijn als staatspresident. Interessanter nieuws zijn de benoemingen van Han Zheng tot vicepresident – na Wang Qishan (wier beschermelingen kortgeleden ook al vervolgd werden) een verdere bevestiging dat de functie dient als wegpromoveerplek voor uitgediende pensioendos – en die van Li Qiang tot premier. Die laatste benoeming, pardon verkiezing, was ook al duidelijk toen bij afgelopen oktober de tweede man in de partijhiërarchie werd. Zijn benoeming stond gisteren op de voorpagina – een foto van Li die de hand schudt van Xi.
Zowel WSJ, Financial Times als Tanner Greer schrijven interessant over de betekenis van dit moment. Retorisch plaatst Xi zich al tijden als derde in het rijtje van de grote Mao, Deng en Xi. Bij zo'n periodisering hoort ook dat elke grote man zijn eigen systeem heeft. Het partijcongres en de afgelopen parlementszitting vormen het definitieve einde van het systeem van de periode Deng. We zitten nu vol in de periode Xi. Het mantra wil dat onder Mao, Deng en Xi het land respectievelijk doorlopen heeft "de grote sprong van opstaan naar rijk worden en naar sterk worden" ("从站起来、富起来到强起来的伟大飞跃"). Na rijkdom ligt de focus nu dus echt op kracht.
Die focus op macht speelt al vanaf het begin van Xi's bestuur. De Wall Street Journal heeft een goed overzichtsartikel van de manier waarop China gebruik maakte van het Amerikaanse pro-engagementbeleid onder president Obama om de Zuid-Chinese Zee in te palmen. De reuring die het Iraans-Saudisch pact bereikt onder Chinese supervisie veroorzaakt is een verder voorbeeld van de verschuiving van ambitie.
Bij het tijdperk van Xi Jinping hoort ook het gebruiken van de gewonnen kracht. Dat blijkt ook uit de nieuwe gidsfrases (提法 tífǎ), die zo belangrijk in het slogangestuurde massacampagnesysteem dat de Chinese leninistische partijstaat is. De bekende "hide one's capabilities and bide one's time" (韬光养晦 tāoguāng yǎnghuì) van Deng Xiaoping is al tijden niet meer van toepassing. Xi spreekt al vaker over dat China nu "dingen doen" moet. Tijdens een zitting vorige week lanceerde hij een nieuwe serie gidsfrases: "wees kalm en blijf vastberaden, zoek voortgang in stabiliteit en wees pro-actief, verenig als één en durf te strijden." (沉着冷静、保持定力,稳中求进、积极作为,团结一致、敢于斗争。) In de gaten houden hoe goed deze beklijven.
De SCMP bericht dat de Chinese kant via Track 2-weg contact op zou hebben genomen met de VS om de Newt Gingrich-oplossing te gebruiken voor een bezoek van parlementsvoorzitter Kevin McCarthy aan Taiwan: stuur tegelijkertijd de belangrijkere vicepresident Kamala Harris naar China. Zulk constructief denken zou een goed teken zijn. Vraag is of het haalbaar is. Eerst maar de reactie afwachten op de transits van Tsai in de VS tijdens haar Latijns-Amerikareis eind deze maand.
Thanks for reading Chinese Wouden 森中台! Subscribe for free to receive new posts and support my work.
Halfgeleiders 🇳🇱🍪
New Dutch curbs on the export of semiconductor technology to China are planning to block sales of three additional models of ASML's lithography machines – Bloomberg: 'the TWINSCAN NXT:2000i, the NXT:2050i and the NXT:2100i models, which are immersion deep ultraviolet lithography machines'
Chip equipment maker ASML's suppliers eye Southeast Asia plants outside China amid tensions – Reuters: 'Officials from a dozen tech companies are set to visit Vietnam, Malaysia and Singapore next week'
Voor achtergrond bij de belangrijke rol die Singapore speelt in de mondiale halfgeleiderketen, lees mijn hoofdstuk over het land in de recente publicatie van het Leiden Asia Centre 'Dutch semiconductor interests in Asia'.
How the Dutch turned on Chinese tech – POLITICO Europe
Commentaar: Met het exportverbod op ASML-machines speelt Nederland een nieuw soort troefkaart uit – Michael Persson in de Volkskrant
ASML moet wijken, maar met welk doel? – Volt Nederland: "En nu moet ASML dus weer wijken voor Amerikaans belang, zonder enige vorm van compensatie." [NB: volgens mij geeft dit stuk geen compleet juiste weergave van de feitelijke situatie.]
The Biden administration is working to further tighten restrictions on the export of chip-manufacturing gear to China, with new measures expected to be announced as early as next month – Bloomberg
Tech war: China's position in global chip supply chain to weaken as South Korea closely aligns its interests with Japan and US, analysts say – SCMP
G7 states will agree to build a supply chain of strategic chip-manufacturing materials when leaders meet in Japan in May – Bloomberg
Tech war: China reliance on chemical in chip manufacturing causes ripples as Japan mulls how to respond to updated US controls – SCMP: 'while China has made progress in producing photoresist, it still relies on imports, mainly from Japan'
Nederland en Europa 🇳🇱🇪🇺
Politie onderzoekt valse bommeldingen en hotelboekingen uit China en Hong Kong: "Ze willen dat ik terugga naar China" – KRO-NCRV Pointer 🇳🇱
Interview directeur AIVD: China verzamelt op grote schaal Nederlandse persoonsgegevens – BNR 🇳🇱
EU tells Taiwan bilateral investment pact not necessary even as bloc seeks more chips – SCMP 🇪🇺
Ambassador Fu Cong, Head of the Chinese Mission to the EU, met with Simon Mordue, Chief Foreign Policy Advisor to President Charles Michel of the European Council – Mission of the People's Republic of China to the European Union: 'They also exchanged views on the Ukraine crisis [sic], the China-EU Comprehensive Agreement on Investment and other issues.' 🇪🇺
Rishi Sunak risks row with Tory hawks over China balancing act – The Guardian 🇬🇧
Rishi Sunak's coronation invite 'to smooth relations with China' – The Times 🇬🇧
Kosovar legislative delegation in Taipei to meet President Tsai and attend forum – Taipei Times 🇽🇰
Twee Zittingen 两会
China's top political advisory body concludes annual session – Xinhua
A decade into Xi Jinping's rule, the puzzle pieces of his designs for China are in place, marking a definitive end to Deng Xiaoping's reform-and-opening era – WSJ
China's reform generation is retiring – Yuan Yang for FT
Watch Xi Jinping slowly strangle the Deng-ist economic paradigm – Tanner Greer
Verkiezing president
Met 100 procent van de stemmen is Xí Jìnpíng 习近平 opnieuw president van China – de Volkskrant
China's Xí Jìnpíng 习近平 takes on unprecedented third term as president – The Straits Times
Xí Jìnpíng 习近平 unanimously elected Chinese president and PRC CMC chairman – Xinhua
De koppen op de voorpagina van staatspersbureau Xinhua waren met koninklijk rood gemarkeerd. De Centrale Militaire Commissie (CMC) van de staat is exact gelijk qua samenstelling aan de Centrale Militaire Commissie (CMC) van de Partij, afgelopen oktober al benoemd.
Verkiezing premier
Xi signs presidential order to appoint Lǐ Qiáng 李强 as premier – Xinhua
Lǐ Qiáng 李强 appointed China's Premier to jump-start battered economy – The Straits Times
Marionet of poppenspeler: wat kan Lǐ Qiáng 李强 als premier van China naast de grote leider Xi? – de Volkskrant
From wooing Tesla to Xi's right-hand man: Lǐ Qiáng 李强's road to China's premiership – FT
China's new premier, Lǐ Qiáng 李强, is showing he is more than the mere loyalist to Chinese leader Xi Jinping that many expected him to be – WSJ
Dit bericht van WSJ herhaalt dezelfde positieve rol bij het afschaffen van 'Zero Covid' die Li Qiang eerder al volgens Reuters gespeeld zou hebben.
Verkiezing parlementsvoorzitter
Former anti-graft and discipline chief Zhào Lèjì 赵乐际 appointed China's top lawmaker – SCMP
Zhào Lèjì 赵乐际 elected chairman of China's 14th National People's Congress Standing Committee – Xinhua
Verkiezing vicepresident
Meet Hán Zhèng 韩正, the man just appointed China's new vice-president – SCMP
Hán Zhèng 韩正 elected Chinese vice president – Xinhua
Dus geen mogelijke opvolger van Xi in deze functie, maar iemand van 68 die nuttig weggeparkeerd wordt.
Staatsraad
List of key officials of China's State Council – Xinhua
Factbox: China's new line-up of top government leaders – Reuters
China reshuffles Cabinet, appoints new vice-premiers but keeps central bank chief – The Straits Times
China's 'Two Sessions' 2023: Qín Gāng 秦刚 named state councillor in latest move marking foreign minister's rapid rise – SCMP
China's 'Two Sessions' 2023: Wú Zhènglóng 吴政隆 takes on top State Council post to help steer cabinet – SCMP
US-sanctioned general Lǐ Shàngfú 李尚福 to become public face of China's growing military – Reuters
Overige
China's move to keep central bank Governor Yì Gāng 易纲 and the finance team in place may boost investor confidence at a time of uncertainty – Bloomberg
China's 'Two Sessions' 2023: Beijing fills top prosecutor, judge, and discipline and anti-corruption positions – SCMP
China's debt issues loom as Beijing revamps financial regulation: Changes could make it harder for local governments to borrow, analysts say – Nikkei Asia
Oekraïne 🇺🇦
China and Russia have deep defence sector ties. Putin's war has not changed that, data show – CNN
Is China's 'straddle' on Ukraine coming to an end? – Michael Clarke and Matthew Sussex for The Diplomat: 'What is striking here is how China's perception of the war in Ukraine intersects with its prevailing view of Sino-U.S. relations.'
VS vs China 🇺🇸🇨🇳
💡 China unofficially suggests way to mitigate Taiwan trip by House speaker, according to US sources – SCMP: 'Using "track two" channels' 'a 26-year-old playbook employed when then-speaker Newt Gingrich visited Taiwan in 1997.' 'Beijing has recently suggested that a parallel trip by Vice-President Kamala Harris might be considered.'
How Beijing Boxed America Out of the South China Sea – WSJ: 'China's gradualist approach has often confounded its opponents, leaving them uncertain about whether, when and how strongly to respond without escalating tensions.'
China to develop dredger 'more powerful than artificial island-builder of South China Sea' – SCMP
Zeitenwende ⏱️
Ook Nederland beleeft een Zeitenwende, maar dan zonder zelfreflectie – Arnout Brouwers in de Volkskrant 🇳🇱
China-beleid EU begint te verharden – Michel Kerres in NRC haalt een persoon aan die met gelijkgestemden recent overal in de aandacht verschijnt in de VS om te klagen dat alternatieve stemmen zoals de hunnen nergens meer te horen zijn. De opiniecijfers die Chen Weiss aanhaalt over vermeende Taiwanese afkeuring van het Pelosi-bezoek kloppen niet. 🇪🇺
China boekt met détente tussen aartsrivalen Riad en Teheran een klinkend succes in het Midden-Oosten – NRC
China plans new Middle East summit as diplomatic role takes shape – WSJ
Joint Trilateral Statement by the People's Republic of China, the Kingdom of Saudi Arabia, and the Islamic Republic of Iran – Embassy of the People's Republic of China to the Kingdom of the Netherlands
China's diplomacy leaves Iran-Saudi tensions unresolved – Bobby Ghosh for Bloomberg
Deutsche Bahn bets on Huawei for railway digitalisation despite security concerns – Reuters
Dissens zwischen Scholz und Baerbock: Ampel verzichtet auf nationalen Sicherheitsrat – Der Spiegel
Japan has decided to join an alternative trade-dispute resolution mechanism initiated by the EU, saying the World Trade Organisation's appellate body has 'ceased functioning' – Bloomberg
South Korea, under pressure from China, is moving closer to the Quad – SCMP
South Korean opposition leader Lee Jae-myung 李在明 claims forced labor compensation plan may lead to military consequences – Yonhap News Agency: '"There is the possibility of the military boots of the Self-Defense Forces again disgracing the Korean Peninsula under the excuse of joint drills between South Korea, the United States and Japan," Lee said in the rally held in central Seoul.'
"Australië moet zich voorbereiden op een oorlog" – NRC
Tech War
Eager to cut China dependence, EU eyes processing 40 per cent of its strategic raw materials by 2030 – SCMP 🇪🇺
Biden and van der Leyen prepare for a convivial encounter as the US and EU wish to show unity over trade, Ukraine and China – Bloomberg 🇪🇺
Berlin und Brüssel erwägen neue Kontrollen für europäische Investitionen im Ausland – Handelsblatt 🇪🇺
US and EU search for climate truce—and a united front against China – POLITICO 🇪🇺
Chinese port city Tianjin loses its allure as EU firms demand a 'spirit of enterprise and innovation' – SCMP
China's Shandong province and South Korea agree to enhance supply chain connectivity – SCMP
Ook federale Belgische overheid verbiedt TikTok tijdelijk op computers en smartphones van personeel – VRT Nws
Overige
China buitenland en defensie
China slams Manila again over closer US military ties, warns against 'drawing wolves into the house' – SCMP
Over the South China Sea, dispute simmers via radios and rhetoric – Reuters: 'A Reuters journalist joined the Philippine flight on Thursday'
De Filipijnen zijn de laatste tijd actief gaan publiceren wat China volgens hun doet, in tegenstelling tot de relatieve stilte onder vorige president Duterte.
China-Australia relations: Western Australia premier Mark McGowan to visit Beijing, Guangzhou by mid-April on first China trip in 4 years – SCMP
Code of conduct on South China Sea must be actionable, Indonesia says after China-Asean talks – The Straits Times
Beijing again excludes South Korea from group tour destination – Yonhap News Agency
India and China see uptick in diplomatic meetings, but ties remain chilly, analysts say – The Straits Times
China economie
Silicon Valley Bank's debacle is causing panic in China's startup industry – TechCrunch
How to measure China's true economic growth: In search of a successor to the Li Keqiang Index – The Economist
Kan China de fabriek van de wereld blijven? – De Tijd
Hong Kong
Hong Kong's Catholic bishop to visit Beijing in first trip in decades – Reuters
3 Hong Kong Tiananmen vigil group activists jailed for 4.5 months for refusing national security data demand – HKFP
Hong Kong national security police arrest 23-year-old woman over alleged incitement to secession online – HKFP
Hong Kong's John Lee to travel to Beijing from Sunday to discuss economic integration, gearing up for national plans – SCMP
Taiwan buitenland en defensie
Missing soldier, guns prompt apology – Taipei Times: 'Army Command Headquarters issued a statement saying it has not been able to verify rumors that a soldier surnamed Chen swam into the sea to desert the army or that he has been retrieved alive by the Chinese Coast Guard.'
Missing Taiwanese soldier is in China, says KMT lawmaker – Focus Taiwan
失聯二膽兵背債? 父證實陳玉珍所言:欠銀行30萬 – 自由時報
Beijing beefs up unification drive targeting Taiwanese businesses and other institutions, according to MAC report – Taipei Times
No comment on alleged Micronesia proposal to ditch China for Taiwan, says foreign ministry – Focus Taiwan
How Taiwan became a key issue in Paraguay's presidential election – Julieta Heduvan and Juan Manuel Harán for The Diplomat
Taiwan, Japan officials mark 12th anniversary of 2011 earthquake – Focus Taiwan
St. Lucia foreign minister to visit Taiwan next week – Focus Taiwan
Digital ministry to set up satellite Internet network – Taipei Times
Ukraine war boosts defence awareness in Taiwan – Taipei Times
Military research unit to unveil Taiwan-developed drones next week - Focus Taiwan
Taiwan binnenland en economie
Taiwan sets next presidential election for 13 January 2024 – Nikkei Asia: 'Candidates are set to be announced Dec. 15'
Who will be the KMT's next presidential candidate? – New Bloom
「侯朱配」民調落居第3 趙少康批侯友宜不表態 – 自由时报
Het is nooit verstandig een leninistische machtsmachine als de KMT te snel af te schrijven, maar het ziet er de laatste tijd wel erg disfunctioneel uit.
Whampoa Military Academy roots hinders military, complains Taiwan Statebuilding Party – Taipei Times
Dutch cyclist Roy Eefting wins 1st stage of the Tour de Taiwan – Focus Taiwan 🇳🇱
Yu Chang grand slam homer leads Taiwan to victory against Netherlands – Taipei Times 🇳🇱
Koxinga werd genoemd als beschermer van wat het Groene Kamp 'Team Taiwan' 台灣隊 noemt en het blauwe kamp 'Team Chinees Taipei' 中華隊.
桃園神社拜天照大神遭批 市府:神祇送回日本 – 自由時報
蔣市府被爆中國籍臨時工將上班內容上傳抖音 簡舒培轟洩漏市民個資 – 自由時報